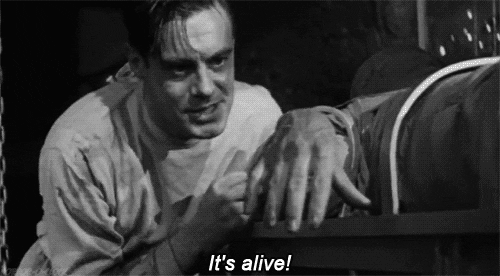 I am extremely happy to announce that my mini challenge was completed by the deadline (and even one day early!) and I finished the rough draft of the feature film script I've been writing this past Sunday! Woo!! I'm actually surprised at the level of lasting happiness this has been causing me, but I think I'm just going to try to enjoy it and go with the flow.  Although, it's two days later and the current flow still feels something like this…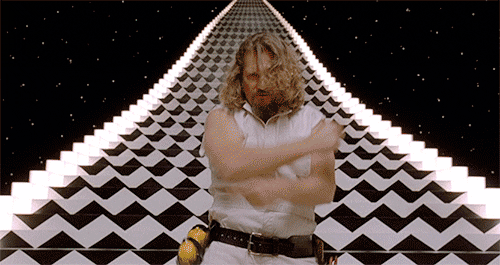 I think one of the reasons this feels so great is that it marks the first time I've finished a long writing project. I've started many a novel and have often made it through the first several chapters, but to date this is the first time I've actually been able to write "the end" on something that wasn't a short story. It is also the first time I've tackled writing a movie script. I feel like I've finally accomplished something remarkable, a major step towards my dreams. It sure feels nice. I have yet to actually tell anyone else about it yet (it's a hermit thing) and it's still in the pre-editing stage, but I am super stoked to share my news with you and am happy to be yelling it loud and proud into the ether of the internet. I kind of feel like this guy…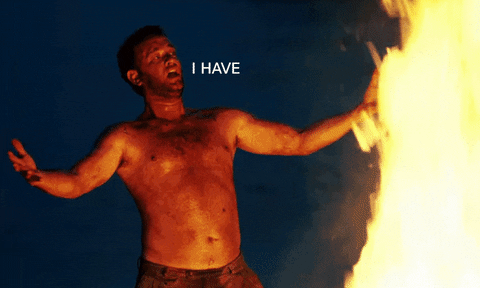 Granted, this bouncing baby of Horror-Comedy goodness (surprise! But not really, lol, of course that's what I wrote) only weighs in at 81 pages, which is about 30-40 pages shy of what I understand is the industry standard of 110-120. They say that each page of script should roughly equal about a minute of film time, which would put this at about an hour and twenty mins or so. I'd say that's still respectable. I'm also fairly certain that this will change as the editing process progresses (I see much adding and cutting in my future to help make this little guy really shine) and I'm pretty pumped about that part because I actually love editing (yup, I'm a weird one) and feel like I might actually be able to take a pretty good stab at it. However,  I will be stabbing my baby, so it's fairly natural that I'll be a bit protective of my little Quasimodo (No! I can't remove that finger! It'll compromise his impressive grip strength!!). I think I'll be able to manage though.
The other thing I'm learning is that writing a script is actually not the complete accomplishment that it might initially seem to be. There is a lot of stuff you have to do afterwards (although, lol, apparently there is a wiki how page on how to sell your screenplay to Hollywood in 9 steps – score!), so I see a lot of reading and research in my future to figure out what my next steps might be. Good thing that's a little R&R I also enjoy sinking my teeth into, so I think this might just be fun (nuttier than a fruitcake has been something I've been called, but I take it as a delicious compliment, or a dry and chewy compliment depending on the baker…I think I'm digressing…and strangely hungry for fruitcake… ). Unless, of course, anyone out in internet land is a close personal friend of a producer and/or director and they want to send them my way. 🙂
So, since mini challenges about writing seems to = me actually hitting writing goals. I'm going to make another one. I'd like to have all my round 1 script editing finished by the end of this month, or sooner, so that this little monster will be ready for the possibility of sharing with others (gulp!) as I suspect this might be something I might have to eventually tackle. So, there is my next goal for the board.  Wish me luck!
~Liv